Flow (Acrylic & Ink Series)
Flow explores the intersection between Western abstraction and Chinese water brush techniques.
Inspired by the skies and seas I observed during my recent art residency in Bali, this new series uses fluid brushstrokes and movement to evoke emotions and energy.
In this blogpost, I would like to share with you the process and challenges of making this series.
The Process
Step 1: Modifying the Brushes
My favourite brushes have always been flat brushes. Been using them since i first started painting. I love how the angular shapes they make, and how they let me apply huge streaks of colours in my works.
After working on the recent commission and having to scale up the Breathe series, I wondered what would happen if I up-sized the brushstrokes. Majorly up-sized it.
Up til now, my biggest brush was 3 inches wide. What if I bought a 4-inch brush, and doubled it up? Would 2 handles make a difference? What about the split in between the bristles? Wouldn't 2 separate brushes handle paint differently?
So many questions... there was only one way to find out!
Hence begin the crazy brush modifications.
A hand-saw, plywood and some nails later, the modified brushes were complete!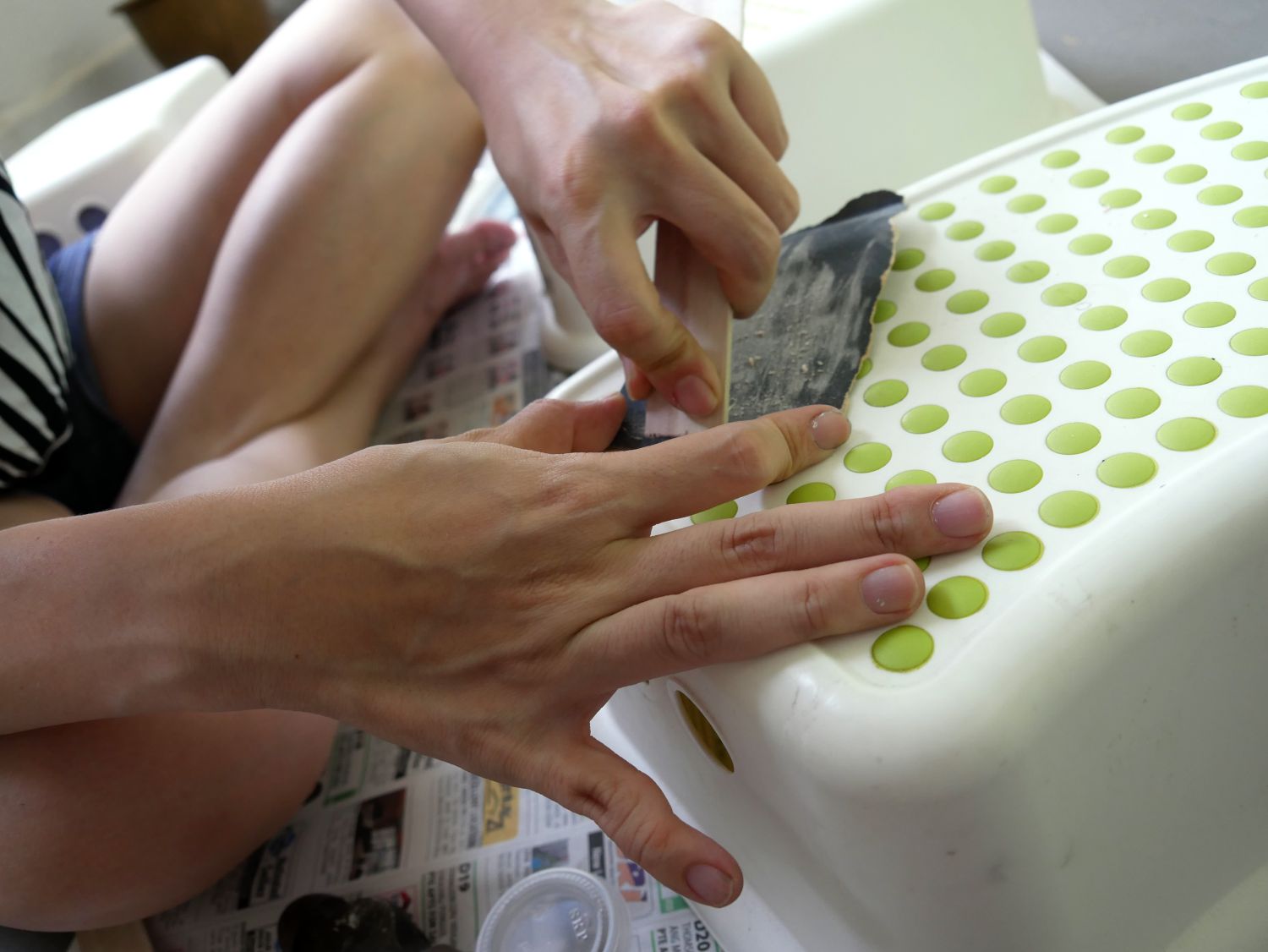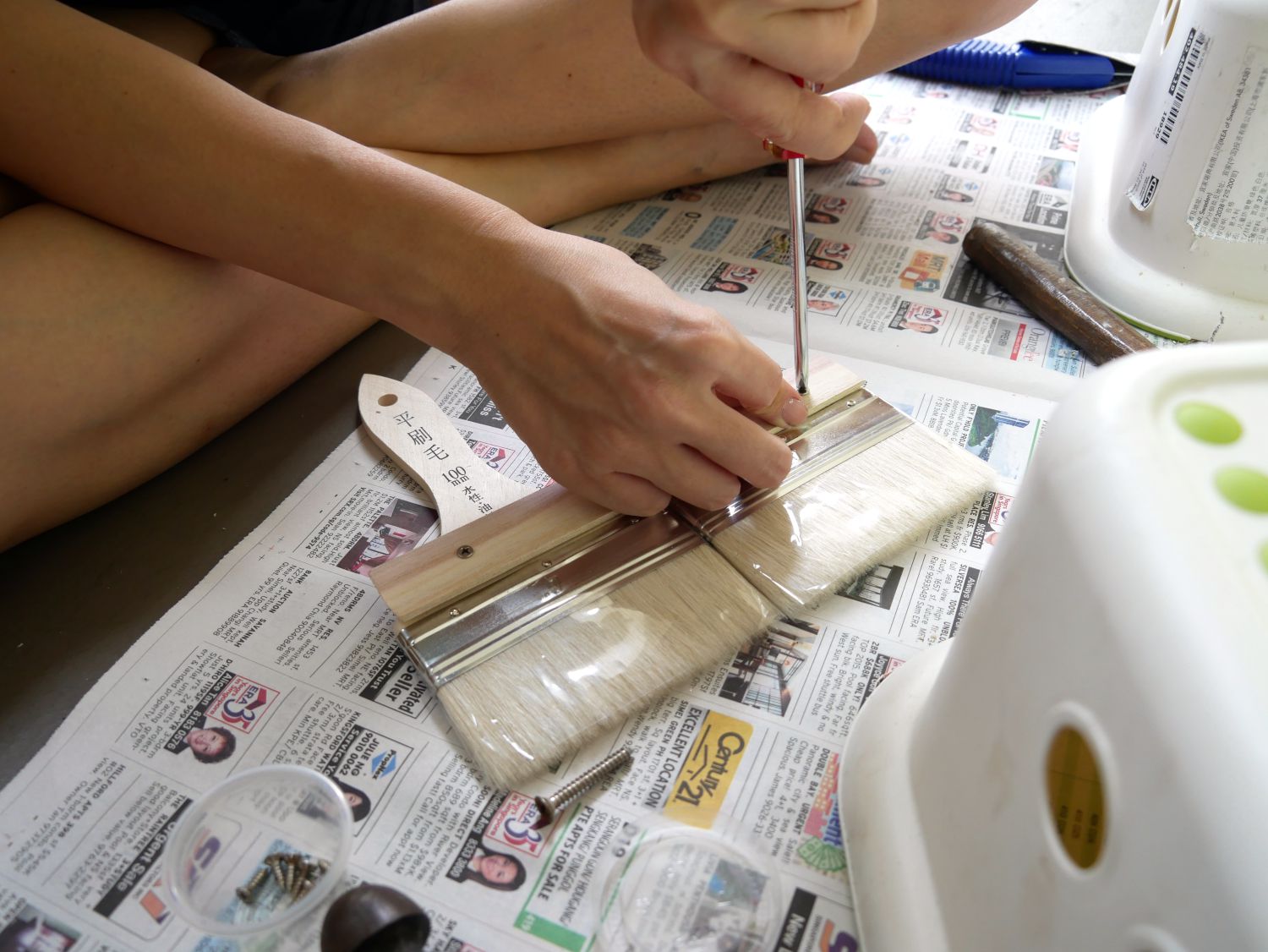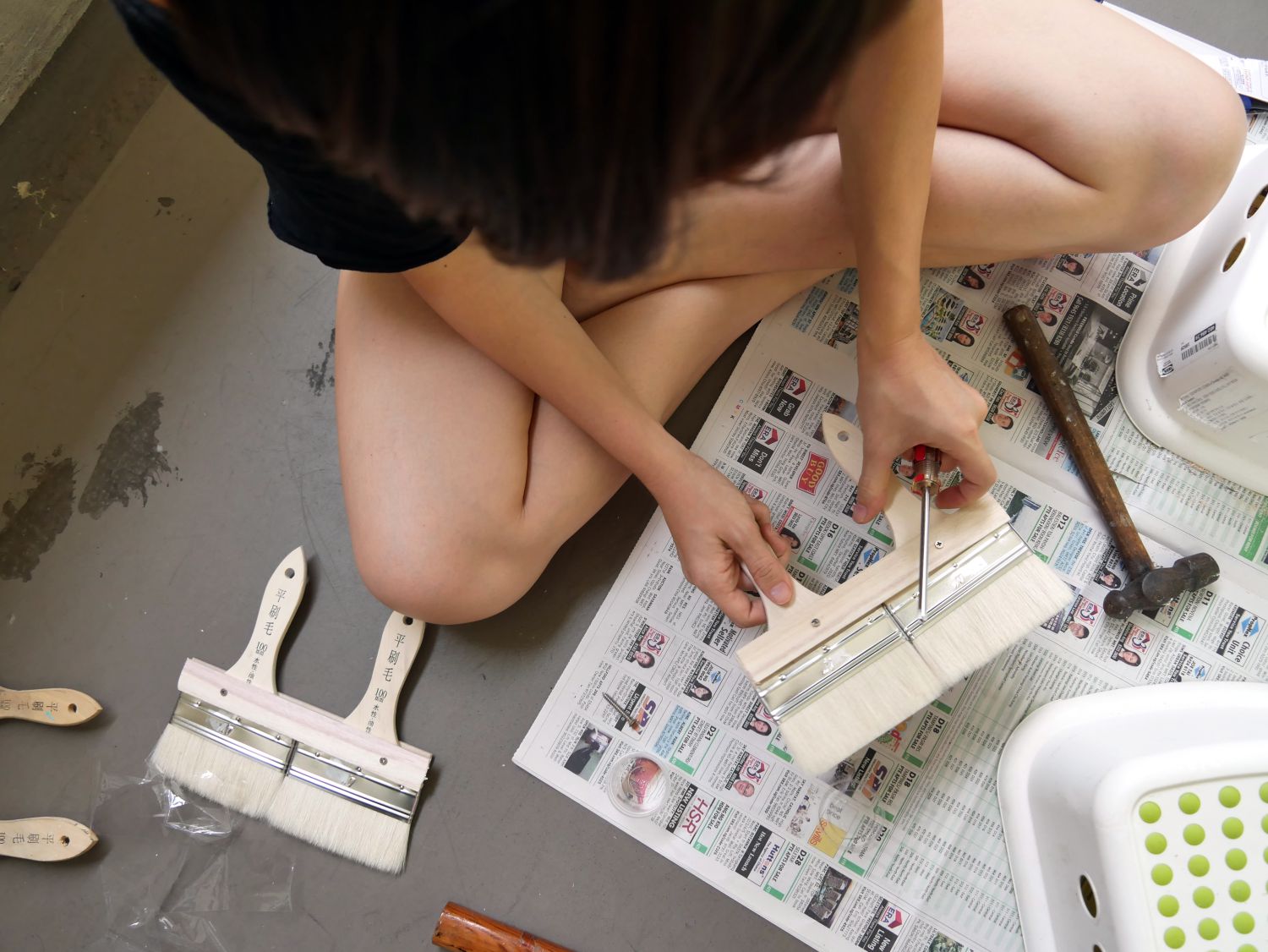 Step 2: Thinning Down the Acrylic Paints
The idea of Flow was to have it represent the fluidity of the sea and skies. As I was working on paper, I decided to use thinned acrylic paints and black ink - a union between western abstract and chinese water brush techniques.
Step 3: Painting the Paintings
Emotions, movement, energy.
Flow was very hard to make. In concept, it seemed easy. Just go with the flow. In reality, I was squatting, kneeling, crouching and bending at awkward angles. Working with thinned acrylics and inks meant I had only one shot for each stroke, no room for pauses or mistakes. The layers also took longer to dry, and I had to work on multiple pieces across a few days.
The hardest part was getting out of my own way. To not overthink the placements and motions of the strokes. And to not hesitate during the painting. At the end of each session, my fingers and feet were stained blue, and I had a massively aching back. Oh wells!
The result is amazing though. From afar, the paintings are a bundle of emotion and energy. Up close, the details are mesmerizing. Check out these close-ups: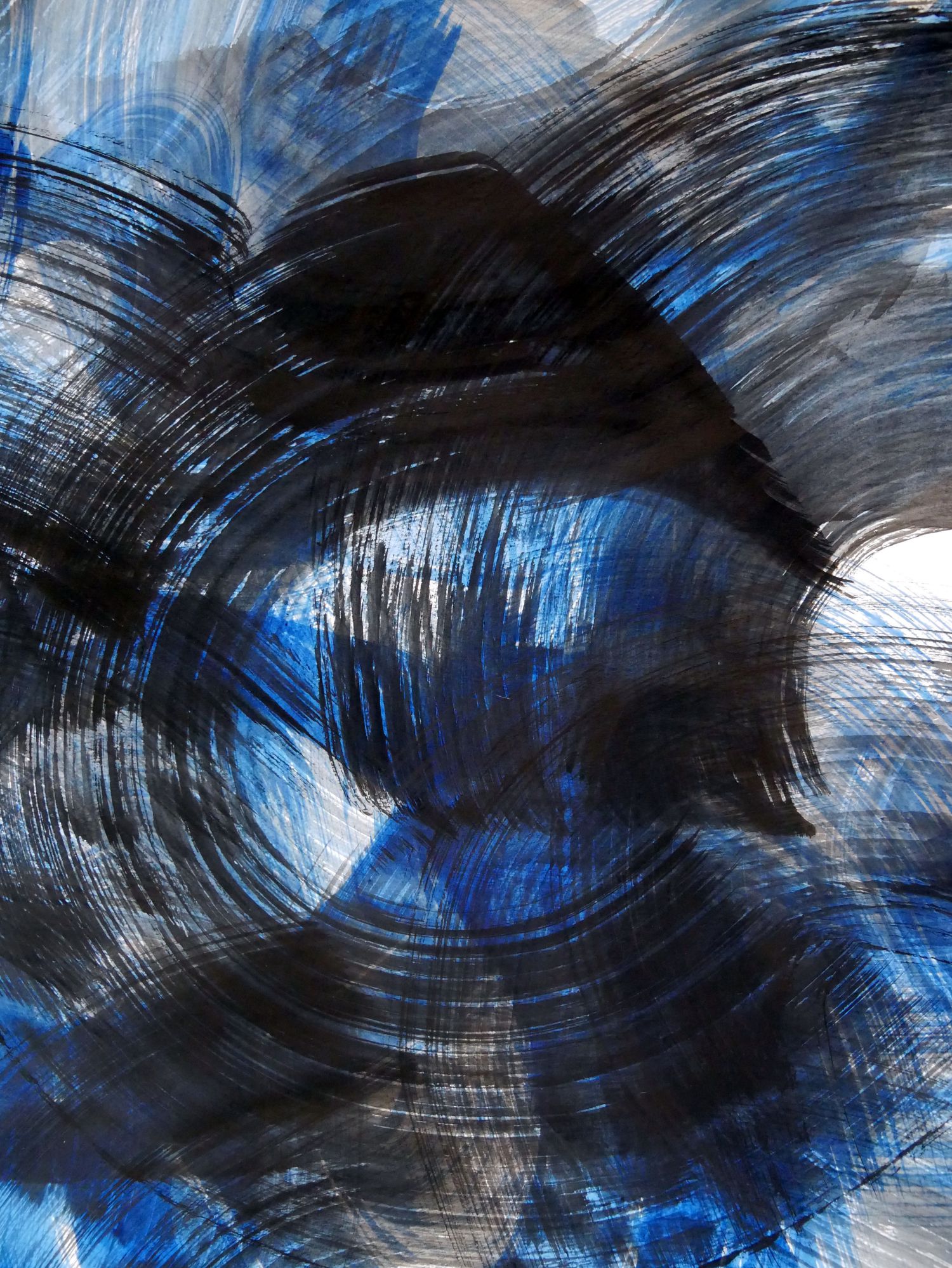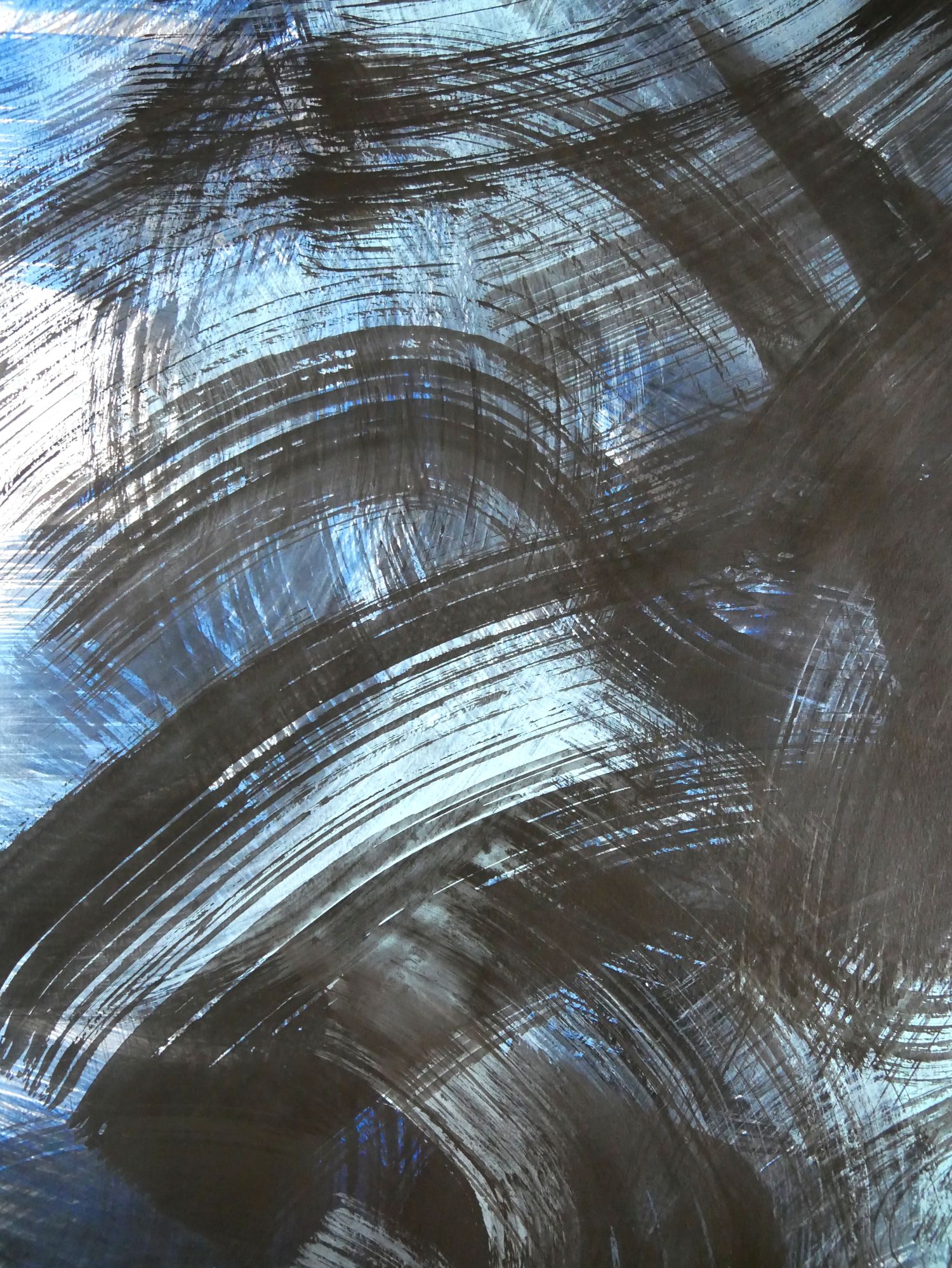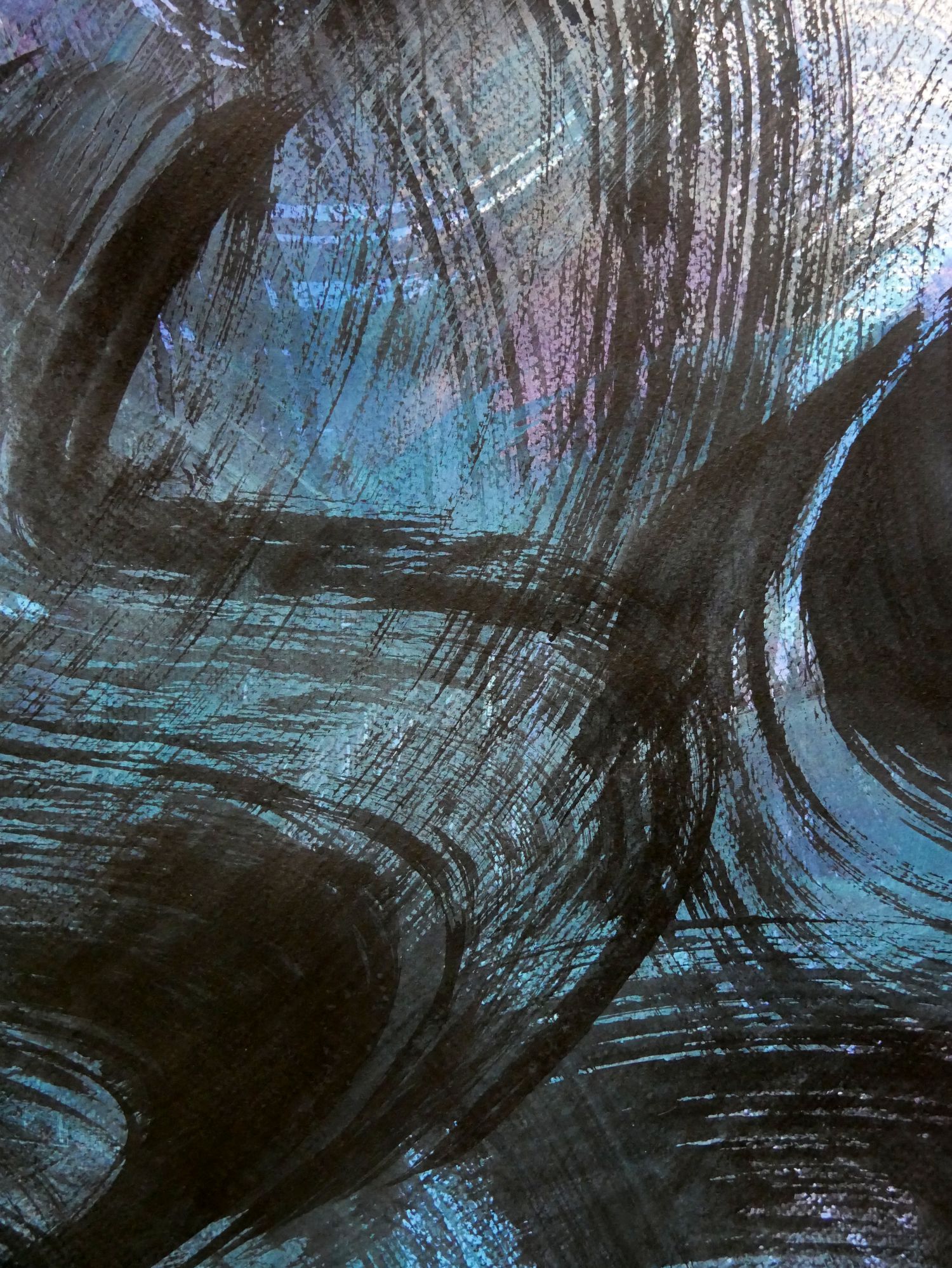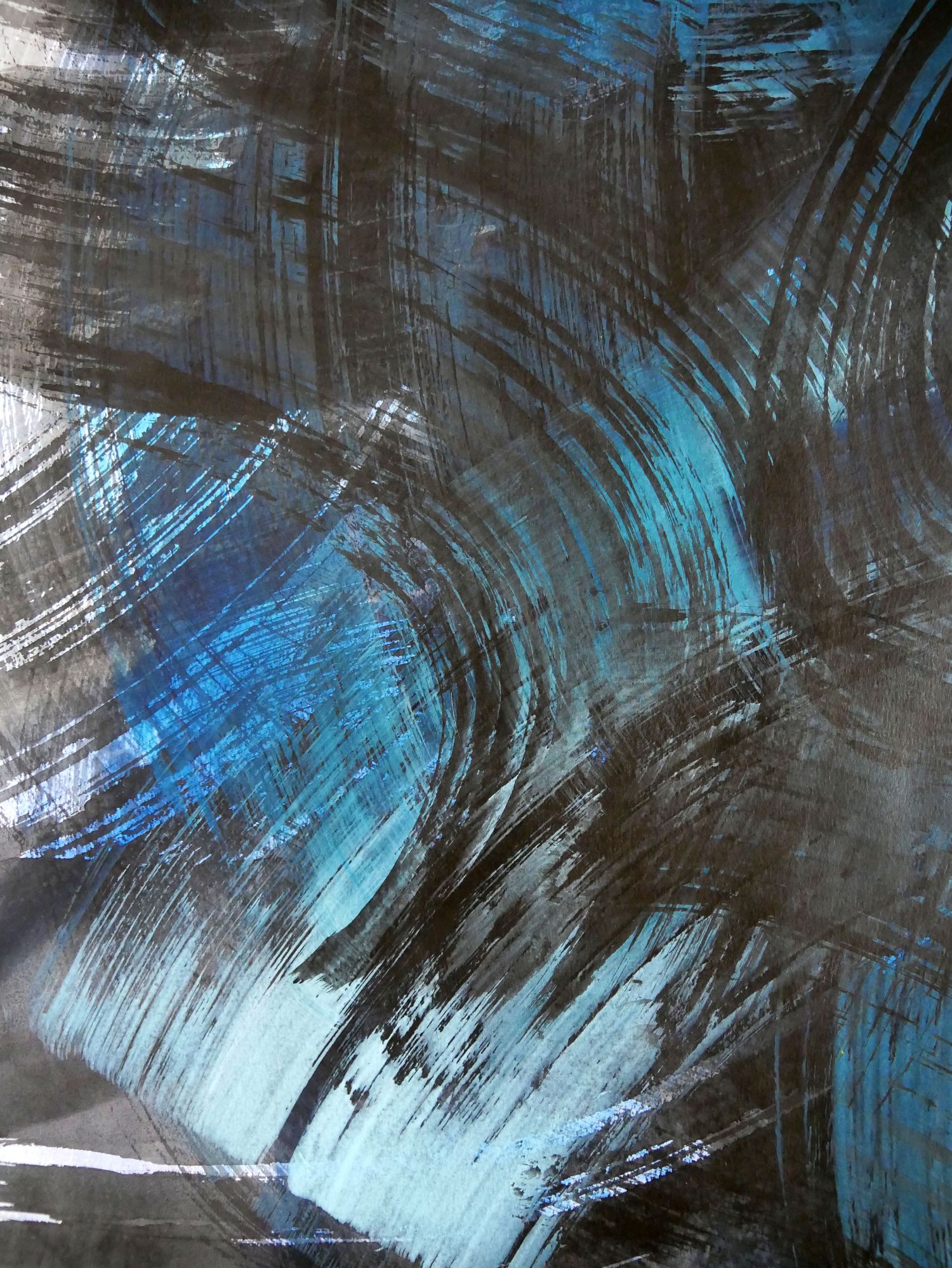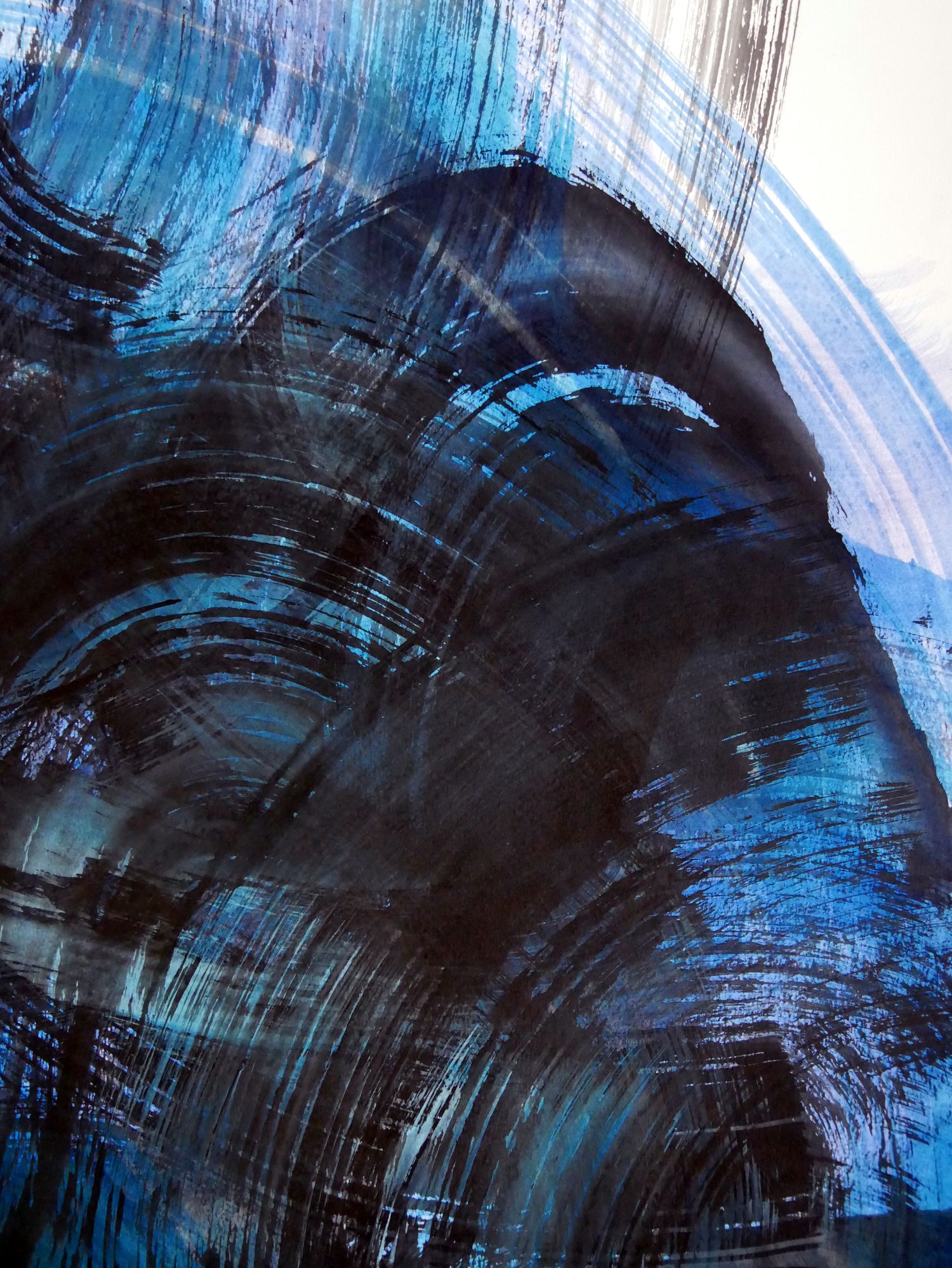 Here's what I learnt:
Two handles did make a difference. They restricted the way the brushes could move, but it also made beautiful organic lines.
The split between the bristles was usually not visible. But when it showed, it made for an aesthetic gap between the brush strokes.
Two separate brushes did handle paint differently... sometimes one soaked up more paint than the other, or retained more water, or dried out faster. This made for more variations in the tone and weight of the brushstrokes.
The Finished Works
All in all, 8 works made the cut for sale in a range of sizes. The biggest one is slightly larger than a metre wide.
5 were done in layers of blues, purples and blacks, with Chinese-brush influences: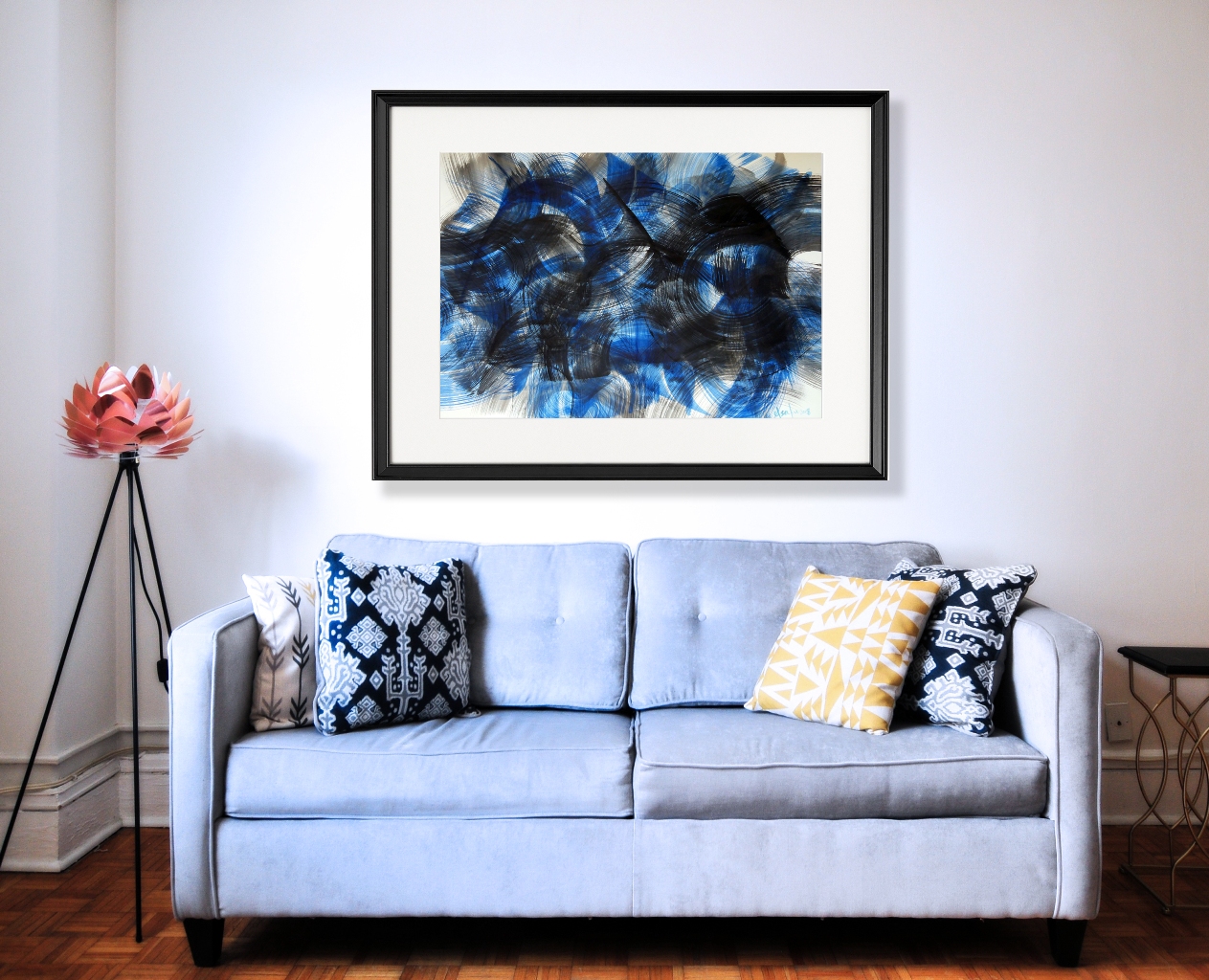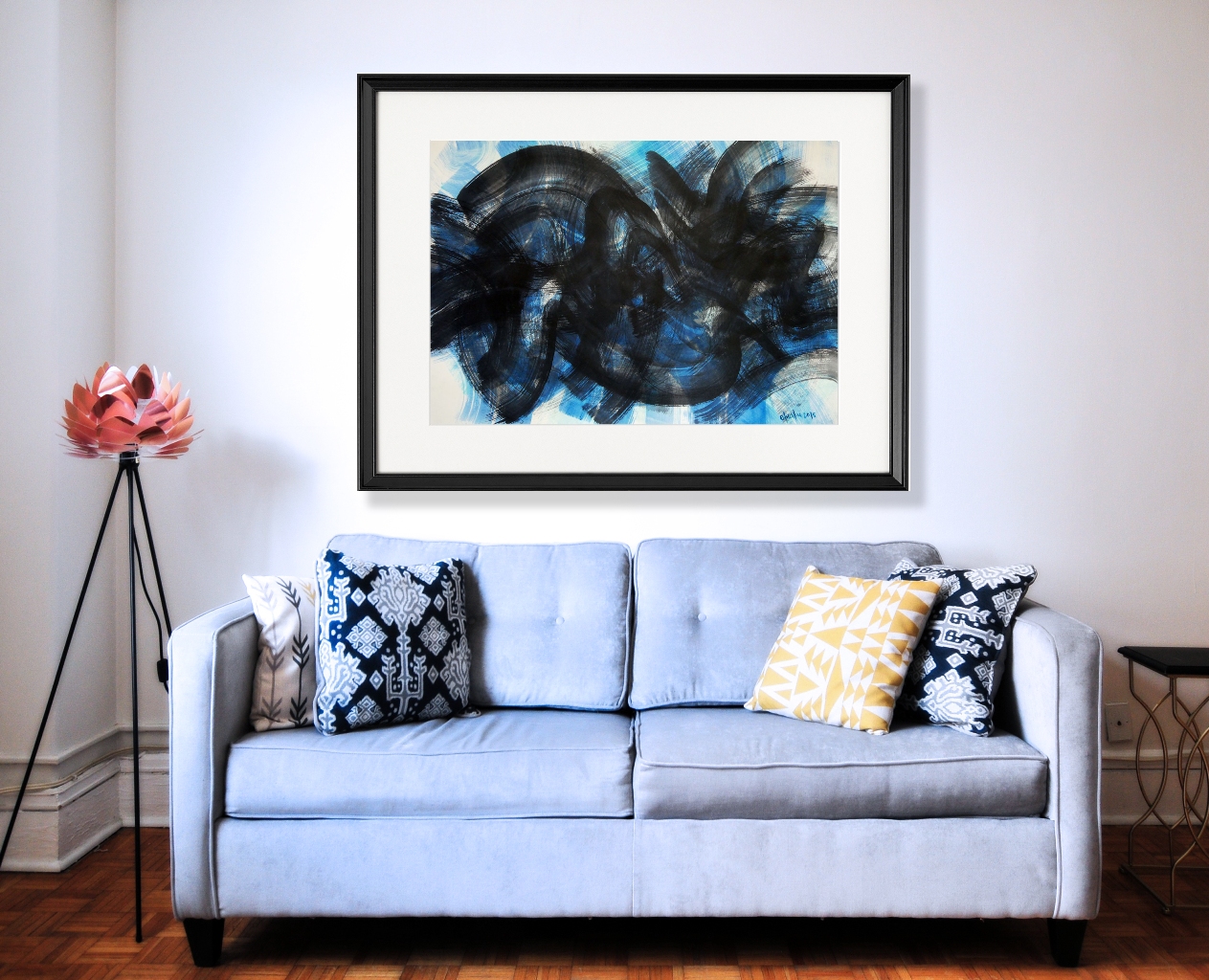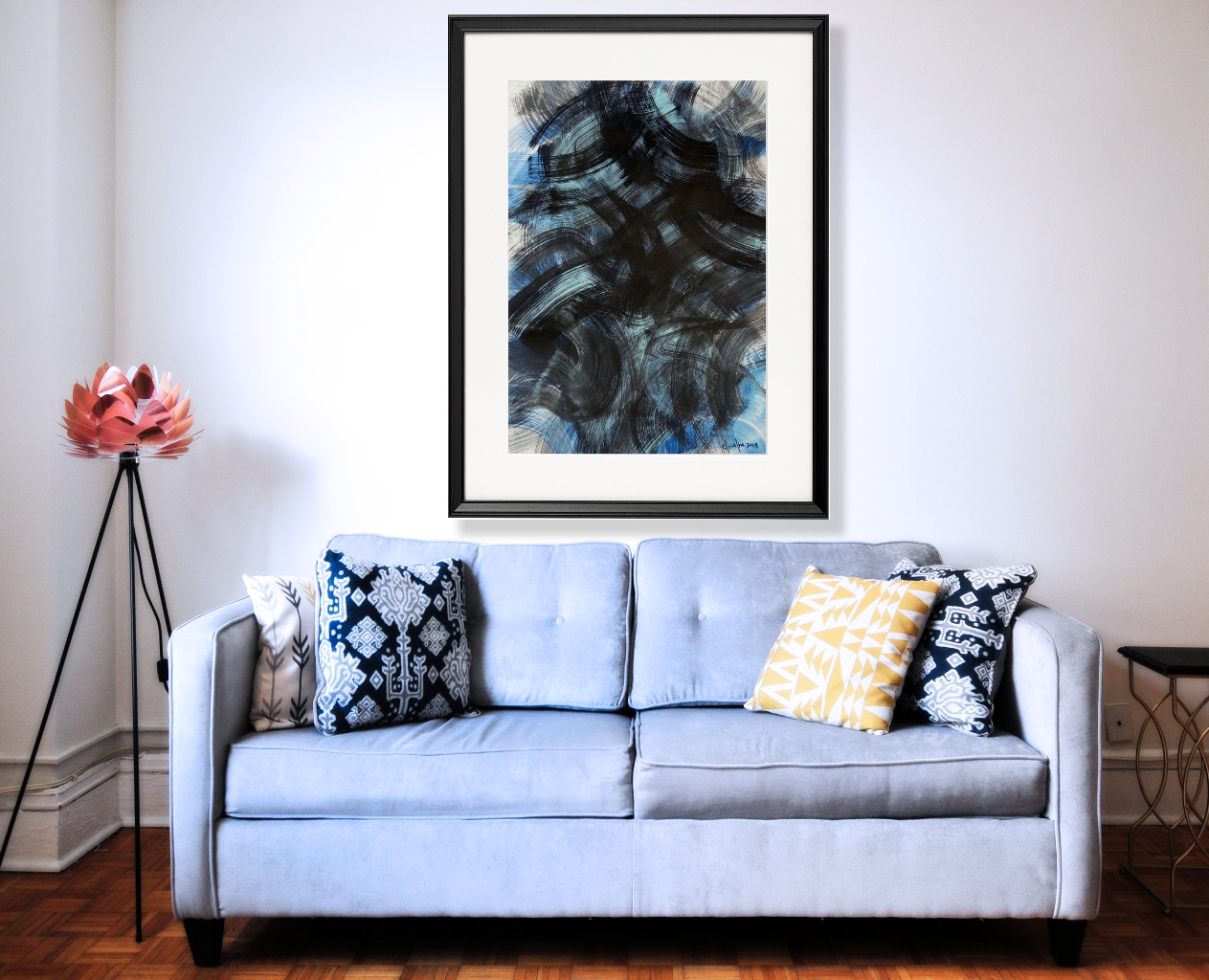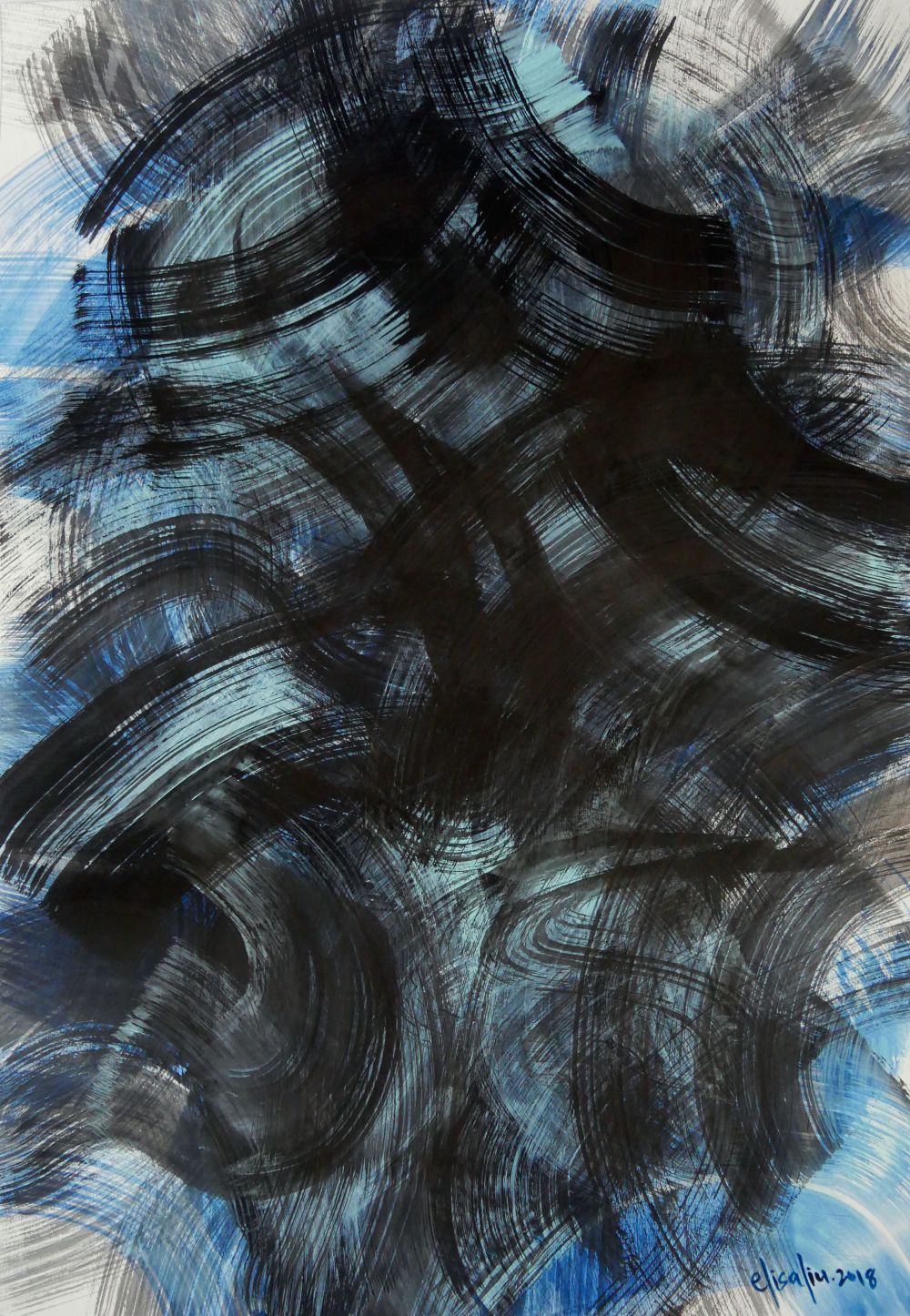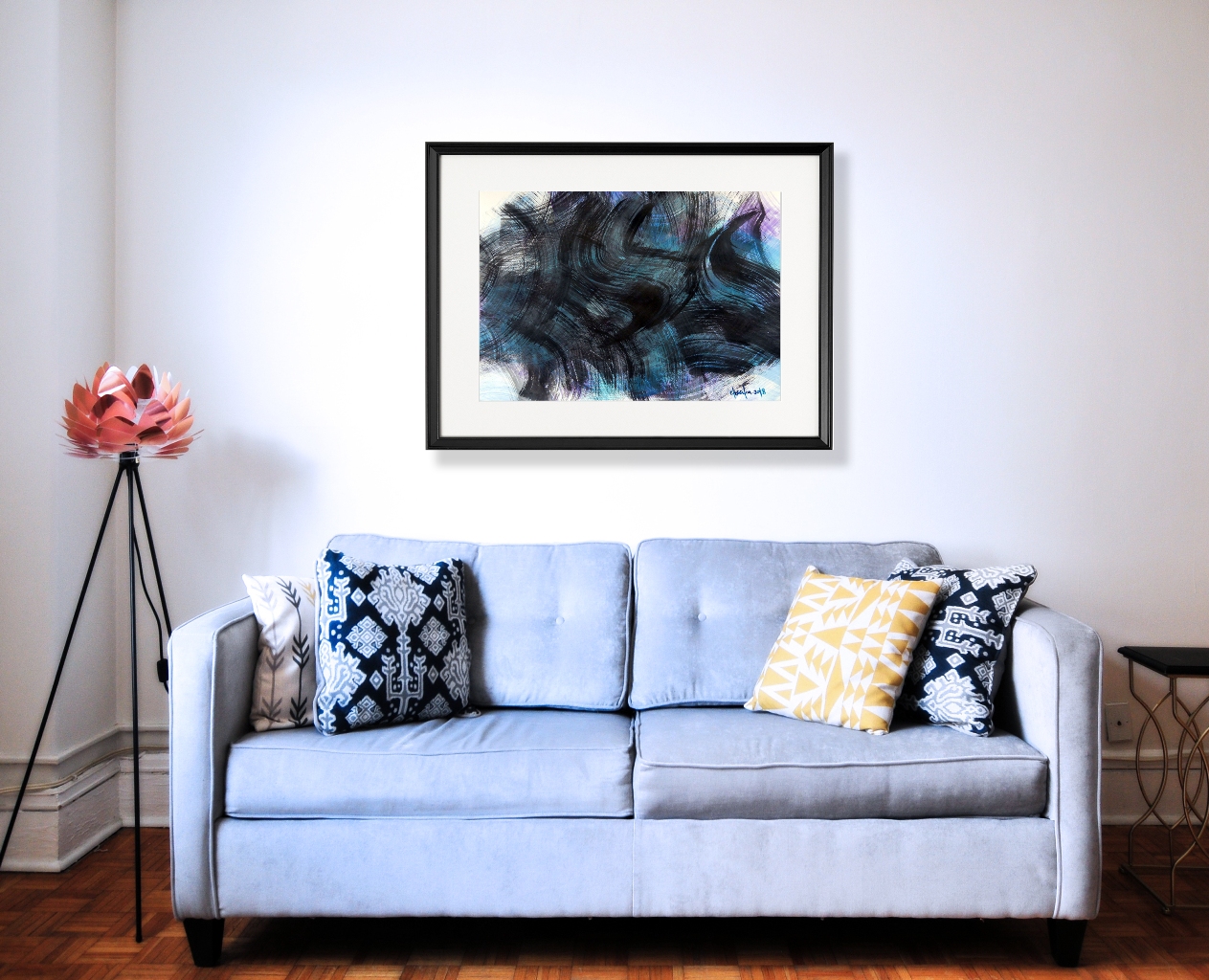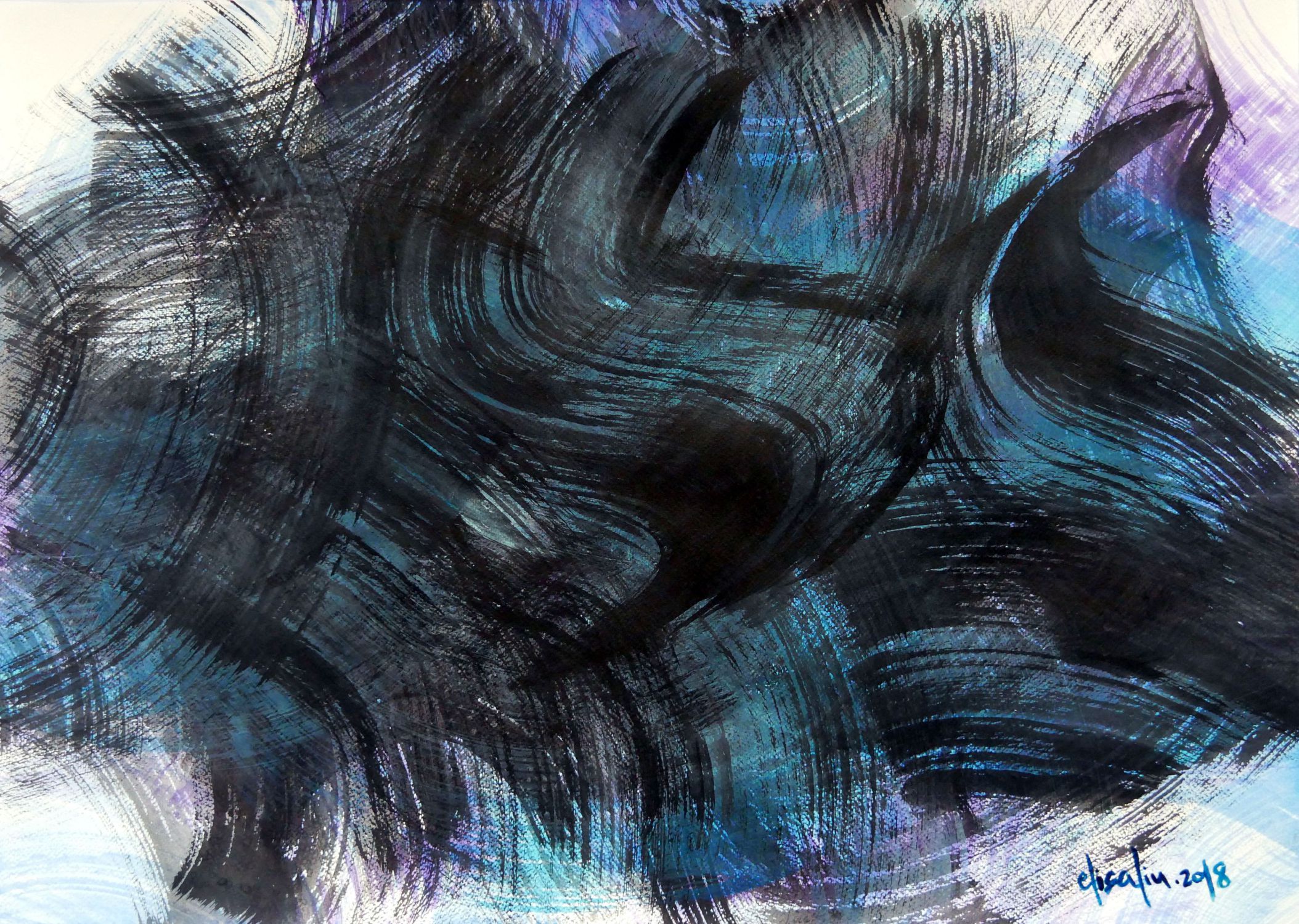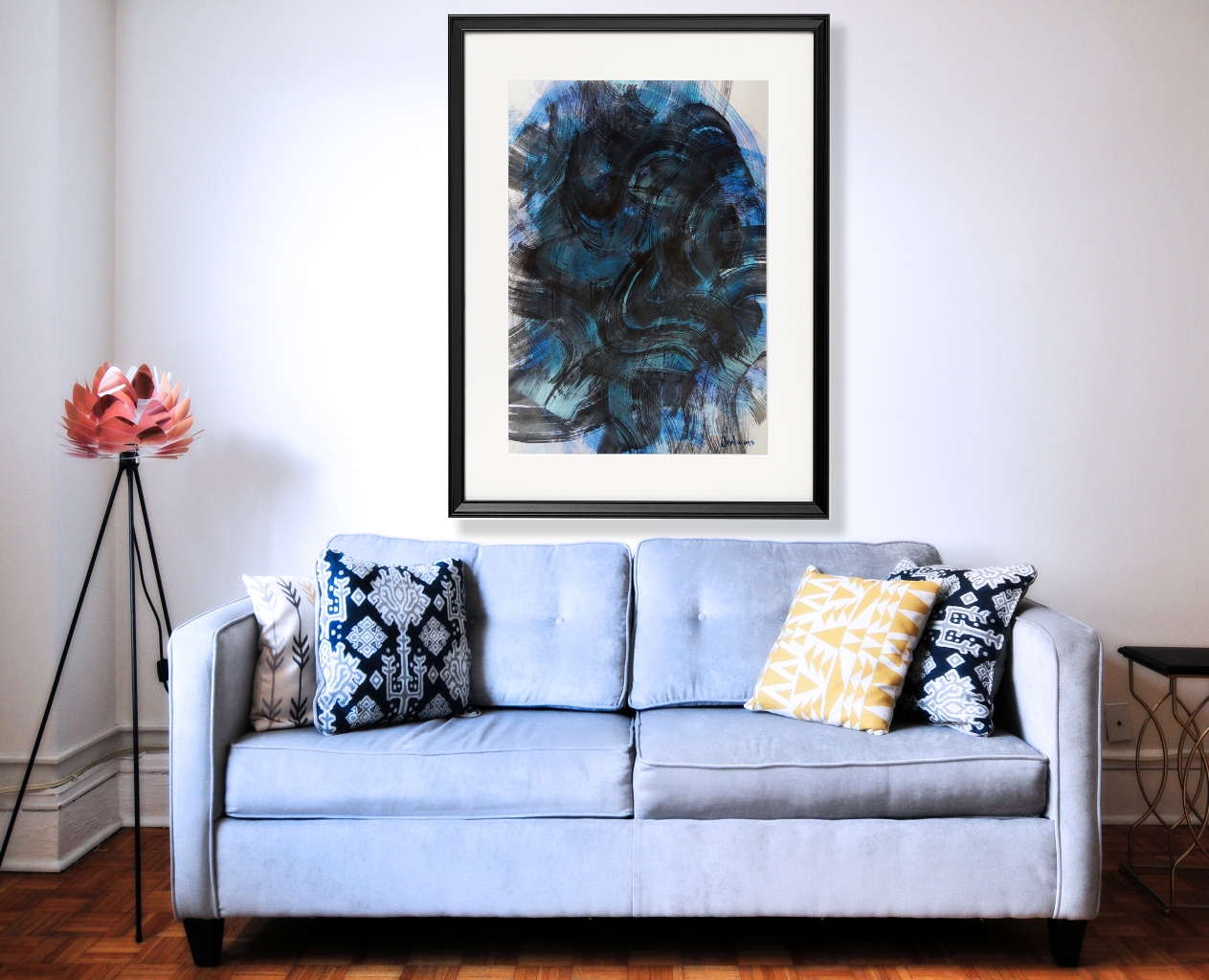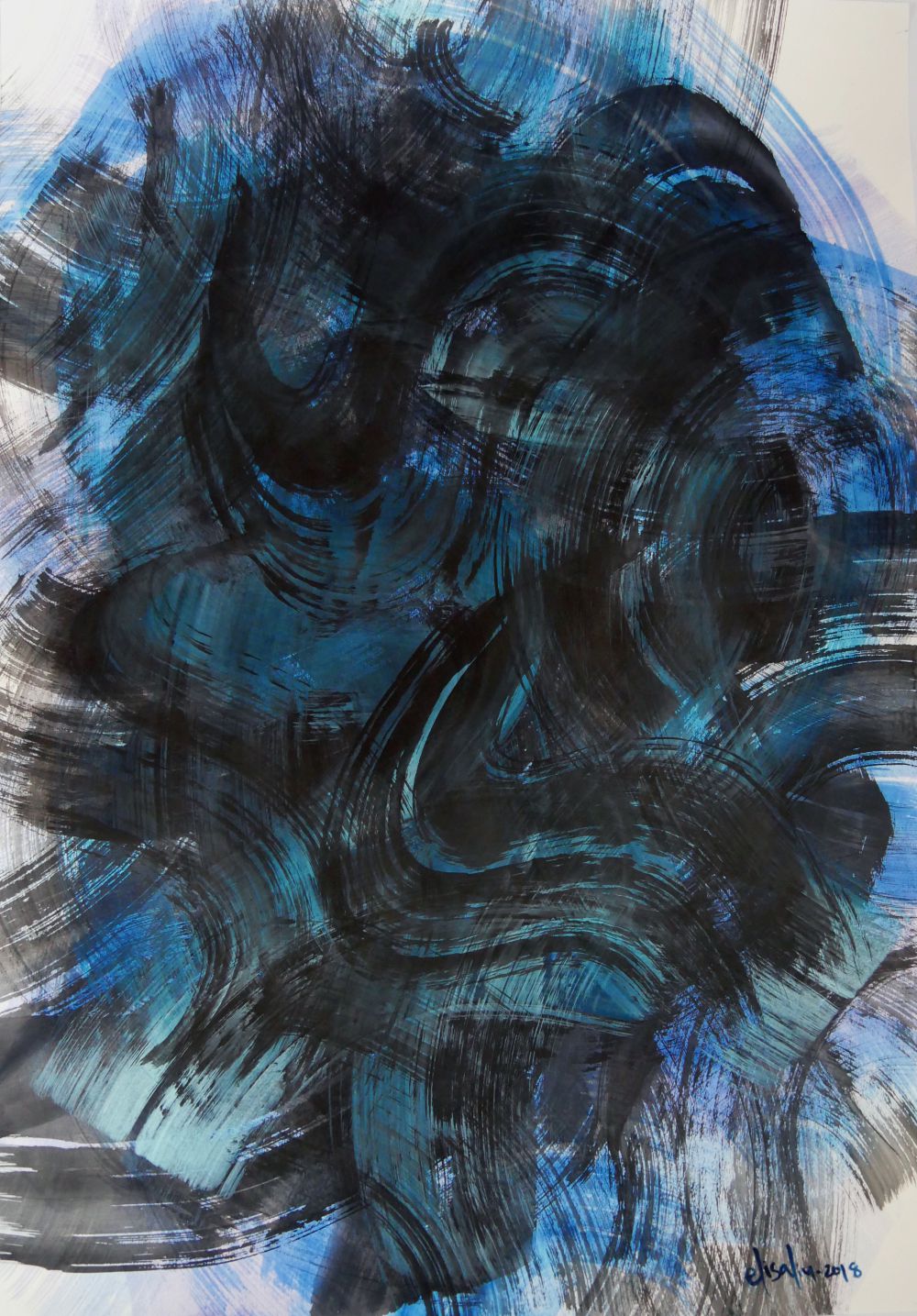 3 were made in blue and teal, inspired by the flow of the ocean. These pieces aim to capture both the tranquility and the energy of the deep seas.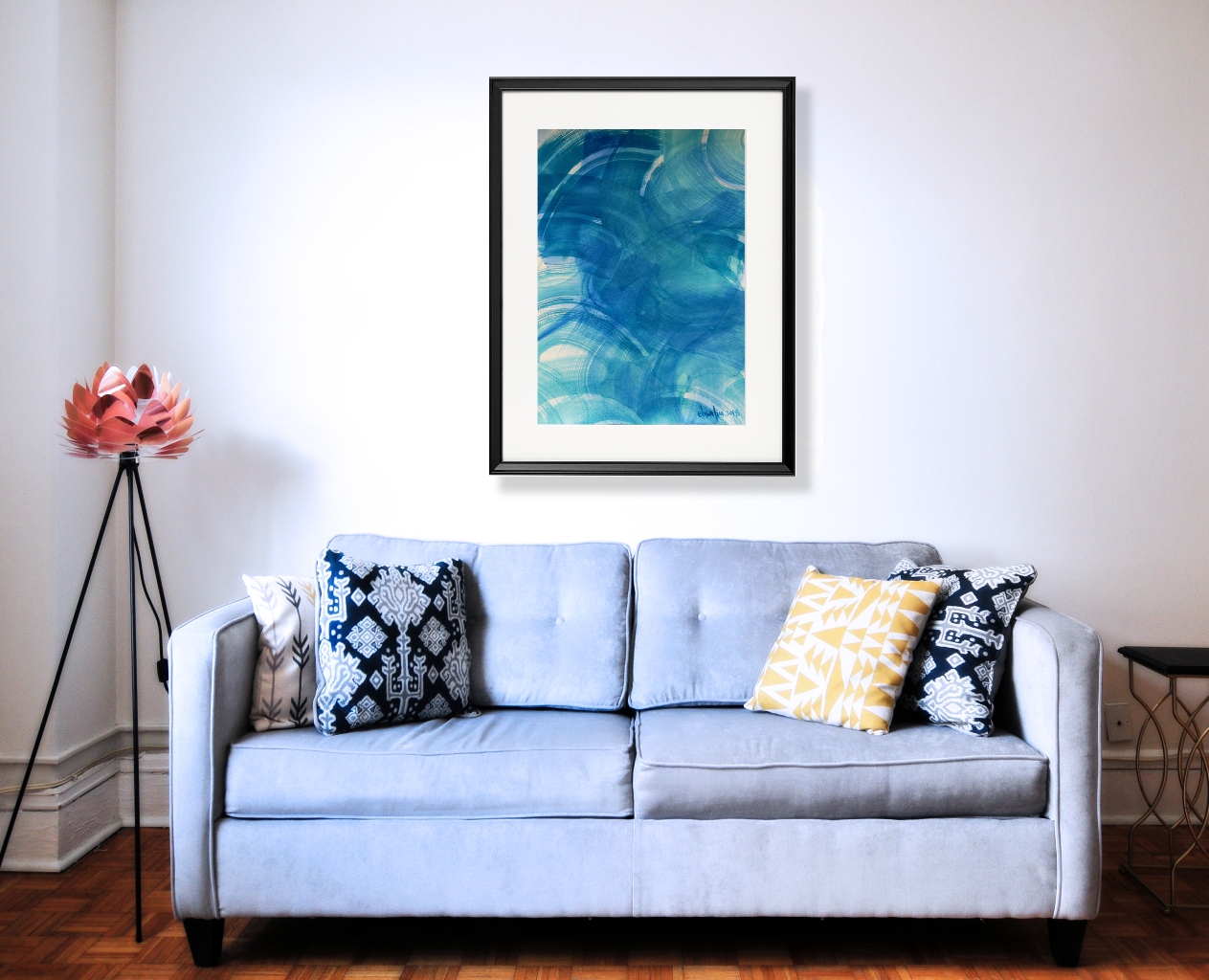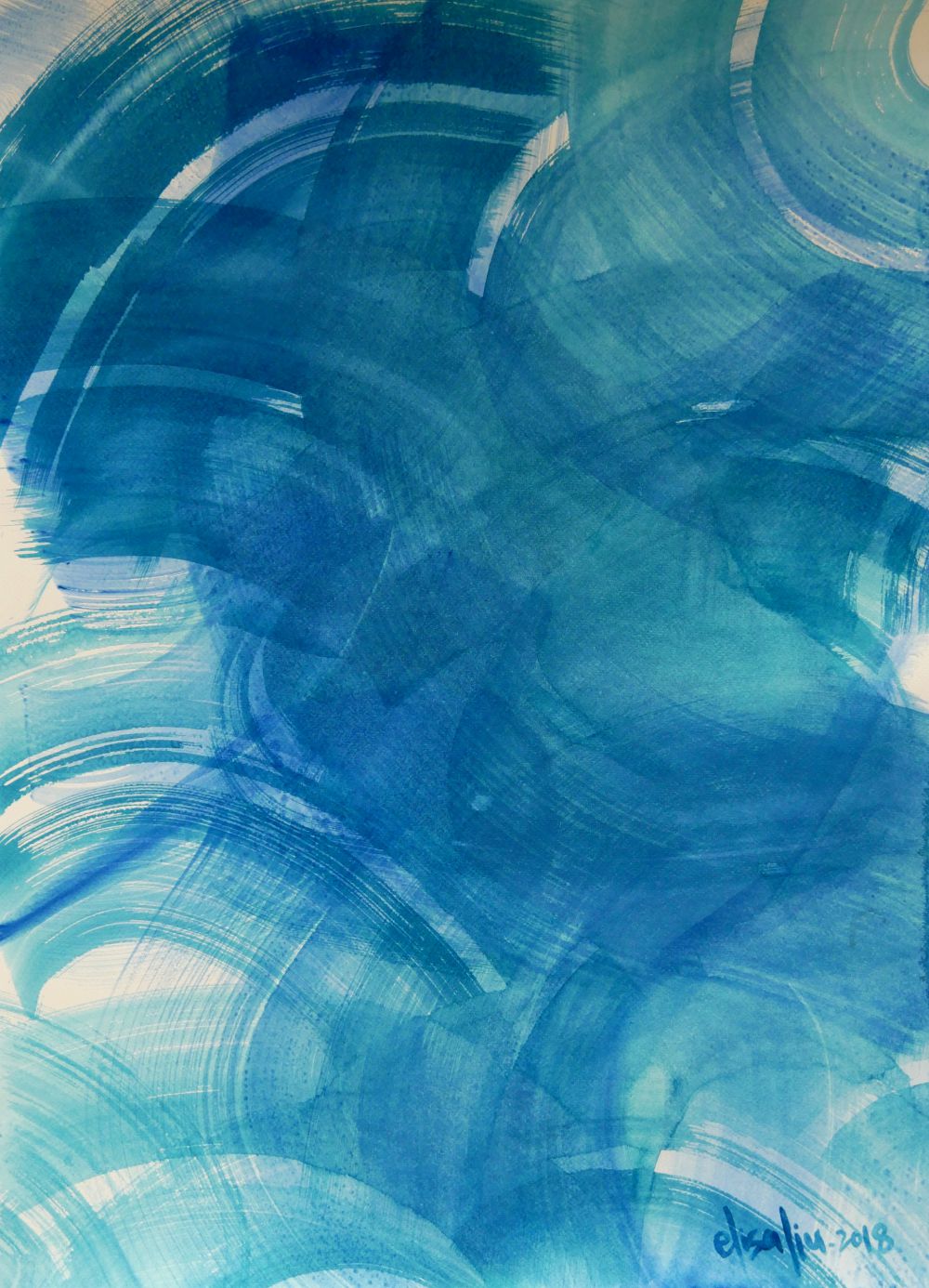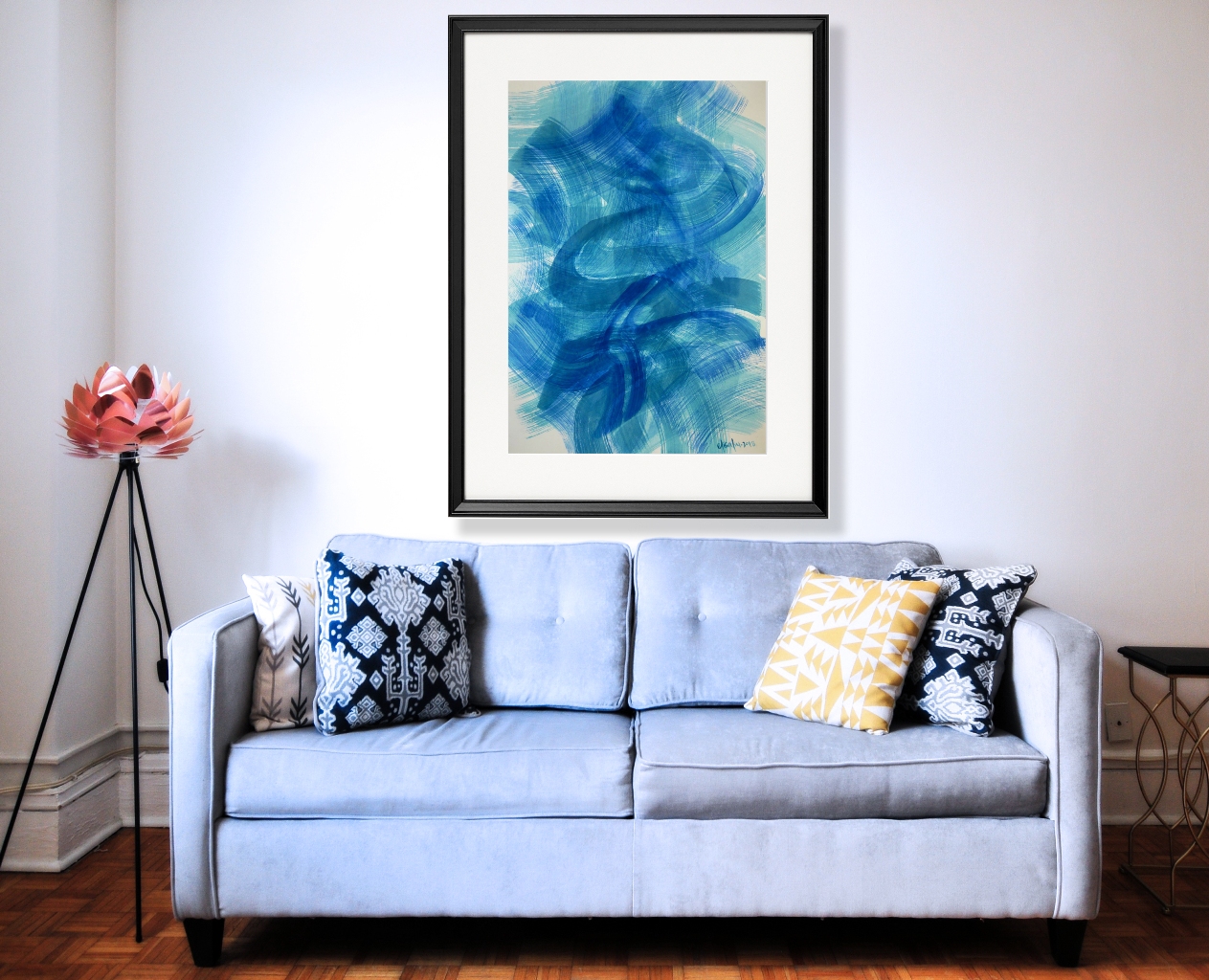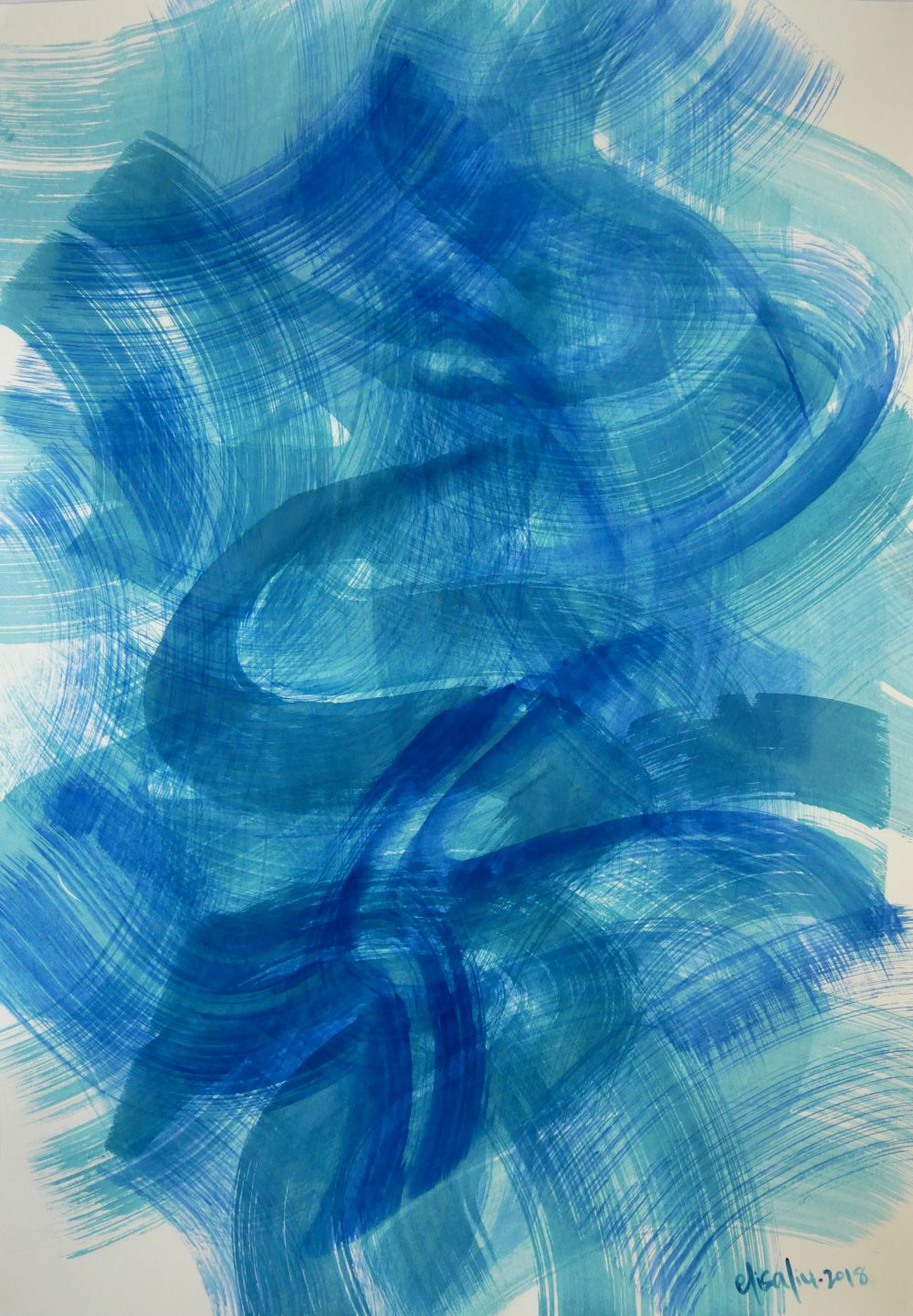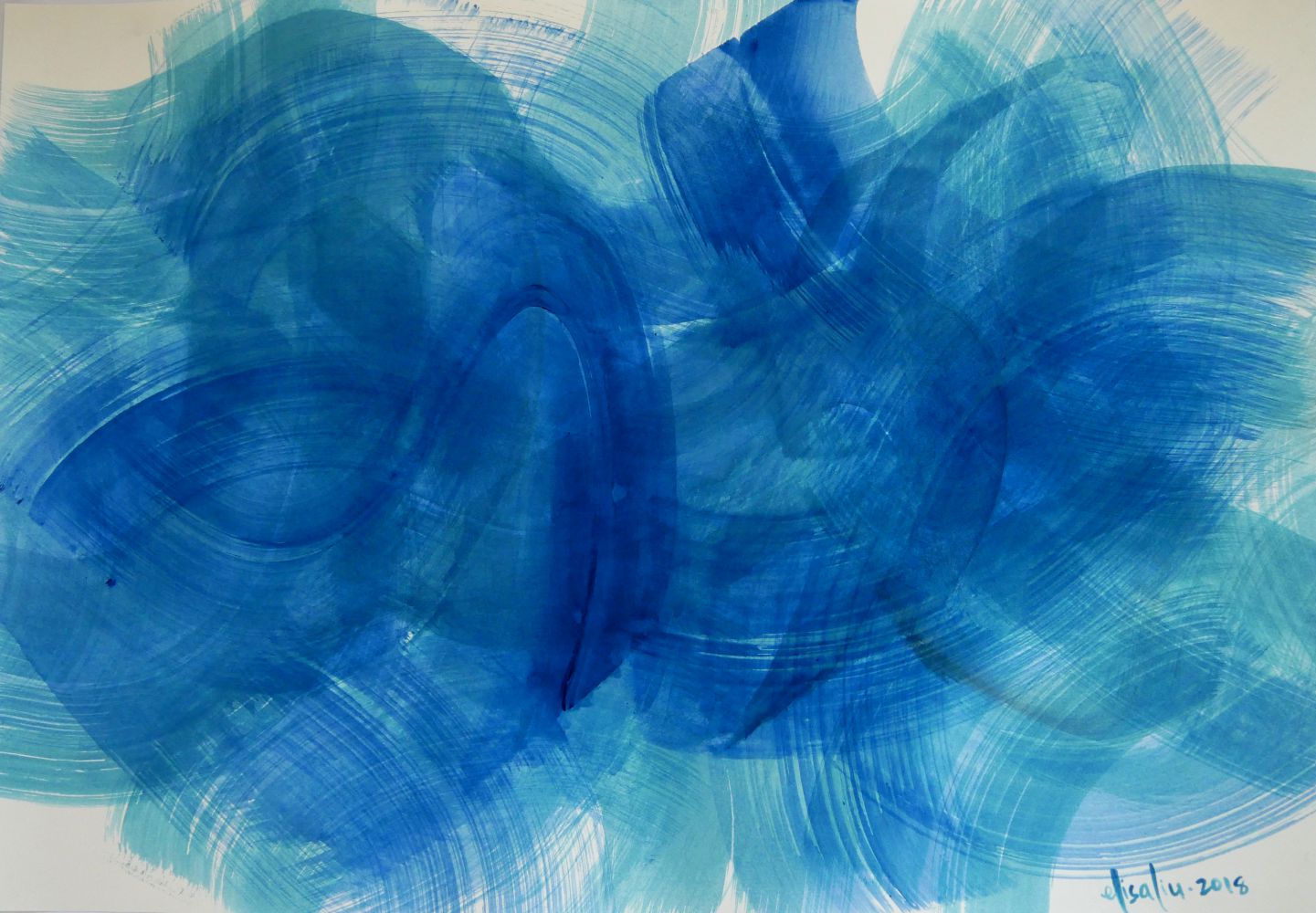 When I finally took a step back to look at this pieces, they're strangely peaceful yet energetic at the same time. 'Flow' is a reminder that life is always in a beautiful state of constant motion.
To Purchase...
These large works on paper are now available on my Saatchi Art store. Prices in USD, inclusive of international shipping.
Small unframed works under $500 available in my webstore here.